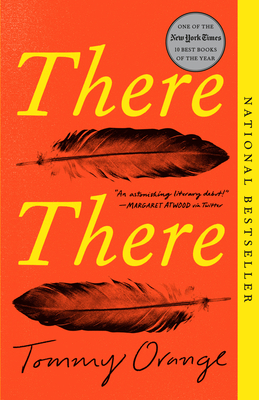 There There
Publication Date:
May 7th, 2019
Usually Ships in 1 to 5 Days
There There is the kind of book that grabs you from the start and doesn't let go, even after you've turned the last page. It is a work of fiction, but every word of it feels true. Tommy Orange writes with a palpable anger and pain, telling the history of a cultural trauma handed down through generations in the blood and bones and stories of individual lives. He also writes with incredible heart and humor, infusing his characters with a tangible humanity and moments of joy even as they are headed toward tragedy. There There has claimed a permanent spot in my heart despite having broken it, or maybe because it did. I think this may be the best book I've ever read.
June 2018 Indie Next List
This is the kind of book that makes you gasp for air because it has gripped you in that spot between your heart and your neck and won't let go. Orange starts the book by introducing characters who are planning to rob a powwow, and as you begin to enjoy them—start to imagine a happy ending, where parents are found and siblings meet at the powwow, somewhere they can feel like a community—the dread of the robbery builds constantly in the background until it explodes. Orange has brought us a book that really is the cream of the crop—of all the crops.
Summer 2019 Reading Group Indie Next List
Description
PULITZER PRIZE FINALIST • NATIONAL BESTSELLER • A wondrous and shattering award-winning novel that follows twelve characters from Native communities: all traveling to the Big Oakland Powwow, all connected to one another in ways they may not yet realize.
A contemporary classic, this "astonishing literary debut" (Margaret Atwood, bestselling author of The Handmaid's Tale) "places Native American voices front and center" (NPR/Fresh Air).
Among them is Jacquie Red Feather, newly sober and trying to make it back to the family she left behind. Dene Oxendene, pulling his life together after his uncle's death and working at the powwow to honor his memory. Fourteen-year-old Orvil, coming to perform traditional dance for the very first time. They converge and collide on one fateful day at the Big Oakland Powwow and together this chorus of voices tells of the plight of the urban Native American—grappling with a complex and painful history, with an inheritance of beauty and spirituality, with communion and sacrifice and heroism
A book with "so much jangling energy and brings so much news from a distinct corner of American life that it's a revelation" (The New York Times). It is fierce, funny, suspenseful, and impossible to put down--full of poetry and rage, exploding onto the page with urgency and force. There There is at once poignant and unflinching, utterly contemporary and truly unforgettable.
Praise for There There
PULITZER PRIZE FINALIST • PEN/HEMINGWAY AWARD WINNER • A NEW YORK TIMES BEST BOOK OF THE YEAR • CENTER FOR FICTION FIRST NOVEL PRIZE WINNER • NATIONAL BOOK CRITICS CIRCLE AWARD WINNER • ANDREW CARNEGIE MEDAL FOR EXCELLENCE IN FICTION NOMINEE
One of the Best Books of the Year: The Washington Post, NPR, Time, O, The Oprah Magazine, The Dallas Morning News, GQ, Entertainment Weekly, BuzzFeed, San Francisco Chronicle, The Boston Globe
"Powerful. . . . There There has so much jangling energy and brings so much news from a distinct corner of American life that it's a revelation." —The New York Times
"With a literary authority rare in a debut novel, it places Native American voices front and center before readers' eyes." —NPR/Fresh Air
"An astonishing literary debut." —Margaret Atwood
"Masterful. . . . White-hot. . . Devastating." —The Washington Post
"Pure soaring beauty." —The New York Times Book Review
"Stunning." —The Boston Globe
"Brilliantly, furiously, magnificently, tragically, the story of America." —Elle
"Heartbreaking." —Esquire
"Electrifying." —Entertainment Weekly
"Brilliant, propulsive." —People
"Exquisite. . . . [An] exceptional debut. . . . Sublimely render[s] the truth of experiences that are passed over." —San Francisco Chronicle
 
"Mr. Orange's sparkling debut is not merely a literary triumph but a cultural and political one, too. It is a work of defiance and recovery." —The Economist

"Powerful. . . . As contemporary, tragic, and American as a breaking news alert." —The Christian Science Monitor

"Stunning." —Mother Jones
"How do you rewrite the story of a people? This question shapes Tommy Orange's sorrowful, beautiful debut novel. . . . Even in its tragic details, it is lyrical and playful, shaking and shimmering with energy." —The Guardian

"Gripping. . . . Unforgettable. . . . There There paints a vivid portrait of American lives few readers have ever known." —Bustle
"Reader, I must confirm: There There really is an extremely good book. . . . This is a trim and powerful book, a careful exploration of identity and meaning in a world that makes it hard to define either. Go ahead and go there there." —Constance Grady, Vox
"This is the kind of novel you finish and immediately need your book club to read so you can talk about it with other people. . . . It's also a powerful reminder of the ability of narrative to move minds." —GOOP
"Staggering. . . . Expertly rendered. . . . Orange successfully refutes the idea of a monolithic Native American identity." —Buzzfeed
"As funny as it is heartbreaking, tracking the multigenerational story of twelve Native Americans with themes of violence, identity, and despair." —PopSugar

"Orange's novel is one of healing, pulling together the intimacies of family, community, history, and violence." —The Rumpus

"An ambitious and galvanizing novel. . . . It's somehow a page-turner at the same time, propelled by the incandescent energy of Orange's prose." —Thrillist
"Bursting with talent and big ideas… Funny and profane and conscious of the violence that runs like a scar through American culture." —The Seattle Times
"[A] smashing debut. . . . Urgent. . . . The voices are dynamic, varied and very much of the moment, a chorus of American Indian voices coming straight from the city." —The Dallas Morning News

"Compulsively readable. . . . A dazzlingly intricate narrative that marries the personal and the ancestral. . . . A masterful work." —Pittsburgh Post-Gazette
"Searing. . . . There There finds satisfying richness in the minutiae of its characters' lives—their daily victories and losses, enduring frustrations, acts of tenderness, and senses of wonder." —The Austin Chronicle

"[Orange] writes with such finely honed literary craft that the book fairly begs to be read more than once. . . . It is gritty as well as beautiful, poetic; it is shocking, sometimes very amusing, often emotionally gut-punching, and rife with unsentimental insight." —Santa Fe New Mexican

"Orange's book is truly a page turner filled with multi-generational accounts of violence, recovery, memory, identity, beauty, and even a little despair. It's a book where you as the reader can't put down until you finish it with both a sense of accomplishment and a feeling of anticipation of what could happen next." —Lakota Country Times

"This is not just a novel. It's a carefully, beautifully crafted speech into a megaphone, telling stories of real, contemporary Native life in a specific place. . . . It offers a glimpse of an interconnected life, a world in which small stones don't just sink to the bottom of the sea but changes tides." —The Times Literary Supplement (London)
"Bold and engrossing. . . . There is hope in this book, hope in the strength of stories told and stories that are finally heard. . . . The wonder of this accomplished debut is the way in which he has got under his characters' skins, allowing them to speak for themselves. . . . This is a powerful novel of pain and possibility." —Financial Times
"Welcome to a brilliant and generous artist who has already enlarged the landscape of American Fiction. There There is a comic vision haunted  by profound sadness. Tommy Orange is a new writer with an old heart." —Louise Erdrich
"There There drops on us like a thunderclap; the big, booming, explosive sound of twenty-first century literature finally announcing itself. Essential." —Marlon James, author of A Brief History of Seven Killings

"There There is a miraculous achievement, a book that wields ferocious honesty and originality in service of telling a story that needs to be told. This is a novel about what it means to inhabit a land both yours and stolen from you, to simultaneously contend with the weight of belonging and unbelonging." —Omar El Akkad, author of American War

"There There is an urgent, invigorating, absolutely vital book by a novelist with more raw virtuosic talent than any young writer I've come across in a long, long time." —Claire Vaye Watkins, author of Gold Fame Citrus