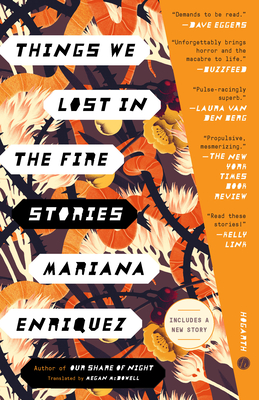 Things We Lost in the Fire: Stories
Publication Date:
November 14th, 2023
Usually Ships in 1 to 5 Days
Description
The "propulsive and mesmerizing" (The New York Times) story collection by the International Booker–shortlisted author of The Dangers of Smoking in Bed and Our Share of Night—now with a new short story.

The short stories of Mariana Enriquez are: 
"The most exciting discovery I've made in fiction for some time."—Kazuo Ishiguro
"Violent and cool, told in voices so lucid they feel spoken."—The Boston Globe (Best Books of the Year)
 
Electric, disturbing, and exhilarating, the stories of Things We Lost in the Fire explore multiple dimensions of life and death in contemporary Argentina. Each haunting tale simmers with the nation's troubled history, but among the abandoned houses, black magic, superstitions, lost loves and regrets, there is also friendship, compassion, and humor. Translated by the National Book Award-winning Megan McDowell, these "slim but phenomenal" (Vanity Fair) stories ask the biggest questions of life and show why Mariana Enriquez has become one of the most celebrated new voices in global literature.
Praise for Things We Lost in the Fire: Stories
Named a Best Book of the Year by: Boston Globe, PASTE Magazine, Words Without Borders, Grub Street, Remezccla, and Entropy Magazine
Praise for THINGS WE LOST IN THE FIRE: 
"Enriquez's stories are historically aware and class-conscious, but her characters never avail themselves of sentimentalism or comfort. She's after a truth more profound, and more disturbing, than whatever the strict dictates of realism allow….[P]ropulsive and mesmerizing, laced with vivid descriptions of the grotesque…and the darkest humor."—New York Times Book Review
"…[S]lim but phenomenal…in [Enriquez's] hands, the country's inequality, beauty, and corruption tangle together to become a manifestation of our own darkest thoughts and fears. The spookiness of these 12 stories sets into the reader's mind like a jet stone, sparkling through all that darkness."—Vanity Fair
"Enriquez's particular gift is to intuit that horror and ghost stories - ancient genres, as old as humanity itself - might make better gateways into a country's past than straightforward narrative. Her ghosts are not conventional spectres, by any means; it is the people - homeless street children, groups of women with a collective history around burns - and the places that she writes about that are demon-haunted."—Financial Times
"Things We Lost in the Fire is a searing, striking portrait of the social fabric of Argentina and the collective consciousness of a generation affected by a particular stew of history, religion and imagination. Mariana Enriquez has a truly unique voice and these original, provocative stories will leave a lasting imprint."—The Rumpus
"Mariana Enriquez's eerie short story collection, Things We Lost in the Fire, looks at contemporary life in Argentina through a strange, surreal, and often disturbing lens. In 12 stories containing black magic, a child serial killer, women setting themselves on fire to protest domestic violence, ghosts, demons, and all kinds of monsters, Enriquez unforgettably brings horror and the macabre to life."—Buzzfeed, "31 Incredible New Books You Need To Read This Spring"
"Violent and cool, told in voices so lucid they feel spoken, these 12 tales present a gothic portrait of a country tilting uneasily away from the memory of horrific traumas, as new ones lurk around every corner."—The Boston Globe, "The Best Fiction Books of 2017"
"These stunning, incandescent stories... crackle with sophisticated weirdness, illuminating everyday activities against the underbelly of the macabre… Similar to Shirley Jackson and Jac Jemc, Enríquez is certain to dazzle and discomfit."—Booklist
"[S]taggering in its nuanced ability to throw readers off balance… rich descriptions of narcos, addicts, muggers, and transvestites quickly transport readers to an alien world… A rich and malcontent stew of stories about the everyday terrors that wait around each new corner."—Kirkus
"Mariana Enriquez is a mesmerizing writer who demands to be read. Like Bolaño, she is interested matters of life and death, and her fiction hits with the force of a freight train. "The Dirty Kid" is one of the most memorable and brave stories I've read in years. It lingers in the mind for weeks, and redefined my sense of Buenos Aires, a city I love dearly."—Dave Eggers
"These spookily clear-eyed, elementally intense stories are the business. I find myself no more able to defend myself from their advances than Enriquez's funny, brutal, bruised characters are able to defend themselves from life as it's lived."—Helen Oyeyemi

"These stories unsettle; they disturb; they disquiet. Read them!"—Kelly Link
"When I read Mariana Enríquez's stories, I forget where I am. I miss my subway stop. I hold my breath. Her fiction is that pulse-racingly superb, that electric and original. Mariana Enríquez is an essential voice in contemporary fiction, and The Things We Lost in the Fire will be a sensation."—Laura van den Berg