You are here
Back to top
Vaccine: The Controversial Story of Medicine's Greatest Lifesaver (Paperback)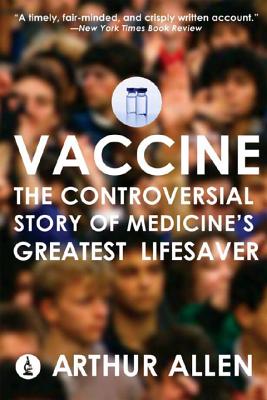 $32.50

Usually Ships in 1-5 Days
Description
---
"A timely, fair-minded and crisply written account."—New York Times Book Review
Vaccine
juxtaposes the stories of brilliant scientists with the industry's struggle to produce safe, effective, and profitable vaccines. It focuses on the role of military and medical authority in the introduction of vaccines and looks at why some parents have resisted this authority. Political and social intrigue have often accompanied vaccination—from the divisive introduction of smallpox inoculation in colonial Boston to the 9,000 lawsuits recently filed by parents convinced that vaccines caused their children's autism. With narrative grace and investigative journalism, Arthur Allen reveals a history illuminated by hope and shrouded by controversy, and he sheds new light on changing notions of health, risk, and the common good.
About the Author
---
Arthur Allen has written for the New York Times Magazine, the Washington Post, The Atlantic, the Associated Press, Science, and Slate. His books include Vaccine: The Controversial Story of Medicine's Greatest Lifesaver. He lives in Washington, where he writes about health for Politico.
Welcome!
The Narrow Gauge Book Cooperative is a community-owned, independent bookstore located in Alamosa, Colorado, in the heart of the San Luis Valley. We sell new and used books and a small assortment of local foods and goods.
To learn more about who we are, read our story about how a community came together to save their beloved, historic bookstore.
If you've come to browse our inventory and shop online, you're at the right place!