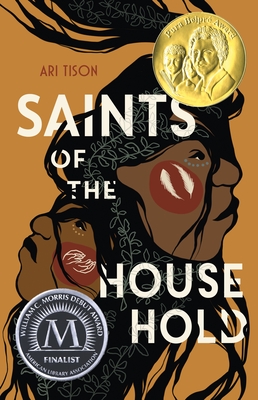 Saints of the Household
Publication Date:
March 28th, 2023
Publisher:
Farrar, Straus and Giroux (BYR)
Usually Ships in 1 to 5 Days
Description
Saints of the Household is a haunting contemporary YA about an act of violence in a small-town--beautifully told by a debut Indigenous Costa Rican-American writer--that will take your breath away.
Max and Jay have always depended on one another for their survival. Growing up with a physically abusive father, the two Bribri American brothers have learned that the only way to protect themselves and their mother is to stick to a schedule and keep their heads down.
But when they hear a classmate in trouble in the woods, instinct takes over and they intervene, breaking up a fight and beating their high school's star soccer player to a pulp. This act of violence threatens the brothers' dreams for the future and their beliefs about who they are. As the true details of that fateful afternoon unfold over the course of the novel, Max and Jay grapple with the weight of their actions, their shifting relationship as brothers, and the realization that they may be more like their father than they thought. They'll have to reach back to their Bribri roots to find their way forward.
Told in alternating points of view using vignettes and poems, debut author Ari Tison crafts an emotional, slow-burning drama about brotherhood, abuse, recovery, and doing the right thing.
Praise for Saints of the Household
A New York Public Library Best Book of the Year
A School Library Journal Best Book of the Year
An Amazon Best Book of the Year So Far
An Amazon Best Book of the Month
"In this striking, assured debut exhibiting a measured pace and delicate writing, Tison (Bribri) probes the ties of adolescent brotherhood and ways the effects of violence can stall self-directed growth... Remarkably compelling." —Kirkus Reviews, starred review
"Tison's writing is staggering... Structurally and substantively, this book is an elegiac triumph that puts the human heart in the reader's hands." —The Bulletin of the Center for Children's Books, starred review
"A heartrending, contemporary debut novel about the repercussions of trauma and the healing power of family and art. ... Violence can be inherited but so can love and forgiveness. This vulnerable and magnetic tale of brotherhood belongs on every shelf." —School Library Journal, starred review
"The story itself is a quiet, soulful exploration of how young men process the often-stark realities they live in. The character notes are subtle and nuanced." —Booklist