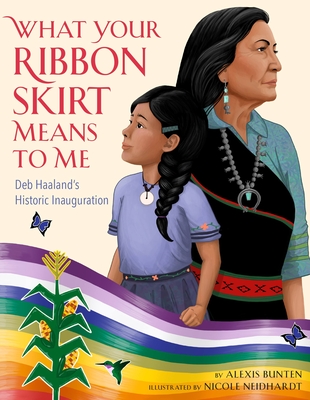 What Your Ribbon Skirt Means to Me: Deb Haaland's Historic Inauguration
Publication Date:
July 25th, 2023
Publisher:
Christy Ottaviano Books
Usually Ships in 1 to 5 Days
Description
This beautiful, informative, Indigenous picture book offers both an homage to Secretary Deb Haaland's achievements, and a celebration of urban Indigenous community through the eyes of a little girl. 
Pia rushes over to the Indigenous community center after school. It's where she goes every day to play outside with friends and work on her homework. But today—March 18, 2021—is special: Auntie Autumn gathers all the children around their television to witness Secretary Deb Haaland in her ribbon skirt at the White House as she becomes the first Native American to serve as a cabinet secretary. Pia and the other kids behold her Native pride on an international stage. Together with their parents and Elders, the children explore the values woven into their own regalia, land, community, and traditions, making precious memories on this day they won't soon forget. 
A Center for the Study of Multicultural Children's Literature Best Book of 2023
 
 
Praise for What Your Ribbon Skirt Means to Me: Deb Haaland's Historic Inauguration
"Bunten (Aleut/Yup'ik) engages readers with lively language. Neidhardt's (Diné) bold, realistic art radiates with strength, especially when Pia's grandmother teaches her about the importance of regalia. A powerful story of intergenerational strength, womanhood, and Native pride."—Kirkus Reviews, starred review
"This simple story . . . artfully folds in all kinds of cultural details about Indigenous ceremonies, customs, and beliefs. Filled with bright, full-page illustrations, this attractive publication celebrates multiple urban and intertribal Native American traditions."—Booklist, starred review
"Could be used in units on Indigenous history or during Women's History Month. It would make a great companion to Fry Bread by Kevin Noble Maillard and Sharice's Big Voice by Sharice Davids. An accessible picture book about an important voice on the U.S. political scene."—SLJ