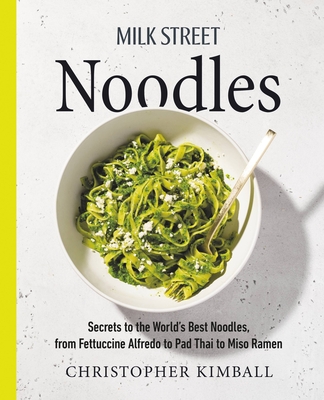 Milk Street Noodles: Secrets to the World's Best Noodles, from Fettuccine Alfredo to Pad Thai to Miso Ramen
Publication Date:
April 25th, 2023
Usually Ships in 1 to 5 Days
Description
It's time to twirl and slurp bowls of pasta, ramen, spaetzle, lo mein, and more with 125 recipes for noodles from around the world, from the James Beard Award-winning team at Milk Street
Nearly every culture serves some sort of noodle, from fettuccine, ramen and spaetzle, to lo mein, gnocchi and udon. So we traveled the world to learn the secrets to the best pad Thai, Italian ragu, spicy North African couscous and buttery Turkish noodles flecked with feta. 
In Italy, we were taught the real fettuccine Alfredo—so much lighter, simpler and more satisfying than what we knew.
In Sapporo, Japan, we learned how to develop the deep umami flavors of miso ramen with minimal time and effort.
And from Ho Chi Minh City to Lima, we learned the art of the quick noodle stir-fry, from Vietnamese shrimp noodles to Peruvian chicken and pasta
The world of noodles also includes cool salads, steaming soups, plump dumplings and bowls of well-sauced shapes of all kind. Noodles are a perfect canvas for spring and summer vegetables, as well as hearty wintertime baked casseroles. And if speed is your need, try hoisin-ginger noodles or our cheesy one-pan cacio e pepe, both ready in 20 minutes. 
We include guides to using the noodles you have on hand, and show how to make classic noodles from scratch—from homemade udon and hand-cut wheat noodles to fresh egg pasta, orecchiette and potato gnocchi.
What's for dinner? Use your noodle.
Praise for Milk Street Noodles: Secrets to the World's Best Noodles, from Fettuccine Alfredo to Pad Thai to Miso Ramen
"In-depth and well-photographed"—Florence Fabricant, New York Times
"[The recipes are] easily within any home cook's reach and equipped with just enough cultural context to make you feel rewarded in the mind as well as the belly... Each demonstrates how the possibilities for innovation are endless, once you know where to start."—Atlanta Journal Constitution