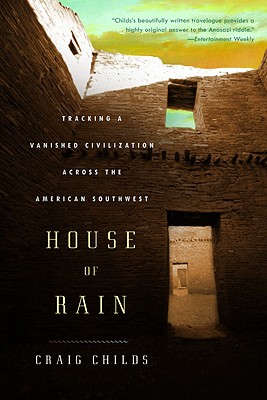 House of Rain: Tracking a Vanished Civilization Across the American Southwest
Publication Date:
July 3rd, 2008
Publisher:
Back Bay Books
Usually Ships in 1 to 5 Days
Description
A "beautifully written travelogue" that draws on the latest scholarly research as well as a lifetime of exploration to light on the extraordinary Anasazi culture of the American Southwest (Entertainment Weekly). 
The greatest "unsolved mystery" of the American Southwest is the fate of the Anasazi, the native peoples who in the eleventh century converged on Chaco Canyon (in today's southwestern New Mexico) and built what has been called the Las Vegas of its day, a flourishing cultural center that attracted pilgrims from far and wide, a vital crossroads of the prehistoric world. The Anasazis' accomplishments -- in agriculture, in art, in commerce, in architecture, and in engineering -- were astounding, rivaling those of the Mayans in distant Central America.
By the thirteenth century, however, the Anasazi were gone from Chaco. Vanished. What was it that brought about the rapid collapse of their civilization? Was it drought? pestilence? war? forced migration? mass murder or suicide? For many years conflicting theories have abounded. Craig Childs draws on the latest scholarly research, as well as on a lifetime of adventure and exploration in the most forbidding landscapes of the American Southwest, to shed new light on this compelling mystery.