You are here
Back to top
Ways of Dying: A Novel (Paperback)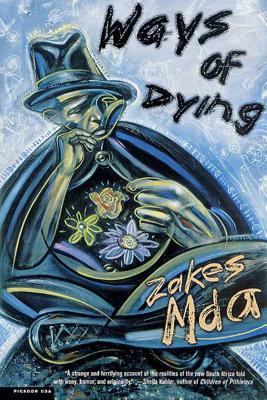 $20.00

Usually Ships in 1-5 Days
Description
---
Winner of the M-Net Book Prize
Shortlisted for the CNA and Noma Awards

In Ways of Dying, Zakes Mda's acclaimed first novel, Toloki is a "professional mourner" in a vast and violent city of the new South Africa. Day after day he attends funerals in the townships, dressed with dignity in a threadbare suit, cape, and battered top hat, to comfort the grieving families of the victims of the city's crime, racial hatred, and crippling poverty. At a Christmas day funeral for a young boy Toloki is reunited with Noria, a woman from his village. Together they help each other to heal the past, and as their story interweaves with those of their acquaintances this elegant short novel provides a magical and painful picture of South Africa today.

Ways of Dying was awarded South Africa's prestigious M-Net Book Prize, awarded by the TV channel M-Net to books written in one of South Africa's official languages, and was shortlisted for the Central News Agency (CNA) Award and the Noma Award, an Africa-wide prize founded by Shoichi Noma, onetime president of Kodansha International.
About the Author
---
Zakes Mda is a professor of creative writing at Ohio University. He has been a visiting professor at both Yale and the University of Vermont. Among his novels, The Heart of Redness (FSG, 2002) won the Richard Wright Zora Neale Hurston Legacy Award. He lives in Johannesburg, South Africa, and Athens, Ohio.
Praise For…
---
"[A] marvelous picaresque . . . Mda's purpose comes through clearly: to show how many ways of dying there are in the transition to a new South Africa, whether through the brutality of white overseers and policemen or that of black gangsters . . . Reflecting the startling contrasts in such a world, tender humor and brutal violence vie with each other in Mda's pages, as do vibrant life and sudden death. The struggle between them creates an energetic and refreshing literature for a country still coming to terms with both the new and the old." —Tony Eprile, The New York Times Book Review

"Mda possesses the lyricism of a storyteller . . . He draws his readers into an Africa where racial hatred and its accompanying violence are commonplace. As a result, the act of mourning is almost a constant state." —Seth Taylor, San Diego State University, The San Diego Union-Tribune

"In two quiet, subtle and powerful novels [Ways of Dying and Heart of Redness], we are taken from the brutal, nearly unbearable horror of life during the revolution against white minority rule to the daily, nearly unbearable hopelessness of life under the cronyism, corruption and injustice of the post-apartheid government. That this universe is not just depressing but also enlightening is due to the enormous talent behind Mda's vision." —Neil Gordon, The Washington Post Book World

"A rollicking, at times whimsical tour through the dying days of apartheid as witnessed by the Professional Mourner Toloki, who wanders from township funeral to township funeral with the hapless wonder of a Chaplinesque loner." —Anderson Tepper, The Village Voice

"Ultimately, this emotionally rich novel dares to seek redemption amid desolation. In these devastated lives, Mda finds grace, tenderness, even the kind of world-weary humor that is born of hardship." —Rene E. Graham, The Boston Globe

"A strange and terrifying account of the realities of the new South Africa told with irony, humor, and originality." —Sheila Kohler, author of Children of Pithiviers

"Once you have finished Ways of Dying, you won't know whether you read the novel or dreamt it. Zakes Mda has gathered up all the human waste and political detritus of South African life and distilled it into a magic realist text of great beauty, humor, pathos." —The Sunday Independent (South Africa)

"A flawless, intricate, seamless weave, with magic and mystery . . . Mda is a master storyteller." —Sindiwe Magona

"The future is not far when Mda could come to be recognized as South Africa's leading literary figure . . . Ways of Dying can be read as an allegory for the contemporary life of Africans. Yet despite its depressing title . . . the book ends up not being being about many ways of dying but many ways of living." —Sowetan (South African)

"An excellent novel." —Tim Couzens

"Creates a vivid, bustling image of contemporary Africa in transition." —Kirkus Reviews

"A moving and startlingly original novel." —Mail & Guardian (South Africa)
Welcome!
The Narrow Gauge Book Cooperative is a community-owned, independent bookstore located in Alamosa, Colorado, in the heart of the San Luis Valley. We sell new and used books and a small assortment of local foods and goods.
To learn more about who we are, read our story about how a community came together to save their beloved, historic bookstore.
If you've come to browse our inventory and shop online, you're at the right place!