You are here
Back to top
Las Madres: A novel (Hardcover)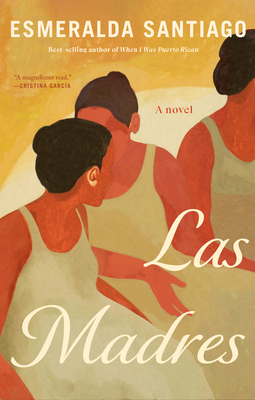 $28.00

Usually Ships in 1-5 Days
Description
---
From the award-winning, best-selling author of When I Was Puerto Rican, a powerful novel of family, race, faith, sex, and disaster that moves between Puerto Rico and the Bronx, revealing the lives and loves of five women and the secret that binds them together

They refer to themselves as "las Madres," a close-knit group of women who, with their daughters, have created a family based on friendship and blood ties.Their story begins in Puerto Rico in 1975 when fifteen-year-old Luz, the tallest girl in her dance academy and the only Black one in a sea of petite, light-skinned, delicate swans, is seriously injured in a car accident. Tragically, her brilliant, multilingual scientist parents are both killed in the crash. Now orphaned, Luz navigates the pressures of adolescence and copes with the aftershock of a brain injury, when two new friends enter her life, Ada and Shirley. Luz's days are consumed with aches and pains, and her memory of the accident is wiped clean, but she suffers spells that send her mind to times and places she can't share with others.

In 2017, in the Bronx, Luz's adult daughter, Marysol, wishes she better understood her. But how can she when her mother barely remembers her own life? To help, Ada and Shirley's daughter, Graciela, suggests a vacation in Puerto Rico for the extended group, as an opportunity for Luz to unearth long-buried memories and for Marysol to learn more about her mother's early life. But despite all their careful planning, two hurricanes, back-to-back, disrupt their homecoming, and a secret is revealed that blows their lives wide open. In a voice that sings with warmth, humor, friendship, and pride, celebrated author Esmeralda Santiago unspools a story of women's sexuality, shame, disability, and love within a community rocked by disaster.
About the Author
---
ESMERALDA SANTIAGO is the author of the novel Conquistadora and the memoirs When I was Puerto Rican and Almost A Woman, which was adapted into a Peabody Award–winning movie for PBS's Masterpiece Theatre. Born in San Juan, Puerto Rico, she lives with her husband, documentary filmmaker Frank Cantor, in New York, and Port Clyde, Maine.
Praise For…
---
"A close-knit group of female friends finds their bonds tested and their lives upheaved by the passage of time before coming together again in Puerto Rico in this elegantly woven novel from the author of When I Was Puerto Rican."
—Emma Specter, Vogue

"A sweeping and supple story centering three Puerto Rican women and their daughters living in the Bronx. As one of their daughters becomes curious about her background, her mother's childhood car accident—which took the lives of both of her mother's parents—comes sharply into view. Yet her mother can't remember the tragic event. To uncover the mystery, the women plan a vacation to Puerto Rico, a place wracked by hurricanes and secrets long buried." 
—Ms. Magazine

"Santiago offers a vibrant portrayal of women supporting one another through disability and hardship."
—Becky Meloan, The Washington Post

"Esmeralda Santiago's Las Madres is an inspiring story of women and their friendships that reminds us of our own."
—Sandra Cisneros, author of Woman Without Shame

"Esmeralda Santiago is already a legend. With Las Madres, a rich and deeply felt novel about friendship, family secrets, belonging, and the boundless love that survives devastation, she confirms her status as an absolute icon."
—Cristina Henriquez, author of The Book of Unknown Americans

"I savored this tender novel that celebrates the power of resilience—of Luz, of las madras, las nenas and the people of Puerto Rico. Santiago's Las Madres is full of secrets and sacrifice and moments of tension and laughter that can only come in the company of women with long histories together.  With many rich layers, this full hearted novel beautifully explores the power of human compassion and what it means to truly care for another."
—Xochitl Gonzalez, author of Olga Dies Dreaming

"An emotionally vast and resonant new novel by the brilliant Esmeralda Santiago. Oscillating between two pivotal years decades apart, Las Madres is a deep-dive into the history of modern Puerto Rico and a number of its extraordinary women—their secrets, their tragedies, and the reclamations they share. A magnificent read."
—Cristina García, author of Vanishing Maps

"An immersive intergenerational saga… Santiago wrings palpable emotion from her characters, and hauntingly portrays Hurricane María's devastating effect on the island… This tenderhearted story of trauma and recovery has undeniable appeal."
—Publishers Weekly

"In 2017, Luz returns home to Puerto Rico with family and friends—the "madres" of the title—hoping to recover memories lost in a 1975 accident that took the lives of her accomplished scientist parents. The first novel in a decade from an author whose memoir When I Was Puerto Rican was a major best-seller."
—Library Journal
Welcome!
The Narrow Gauge Book Cooperative is a community-owned, independent bookstore located in Alamosa, Colorado, in the heart of the San Luis Valley. We sell new and used books and a small assortment of local foods and goods.
To learn more about who we are, read our story about how a community came together to save their beloved, historic bookstore.
If you've come to browse our inventory and shop online, you're at the right place!