You are here
Back to top
Tarta Americana (Penguin Poets) (Paperback)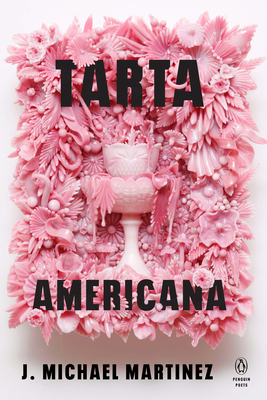 $20.00

Usually Ships in 1-5 Days
Description
---
A suite of poems that channels the legendary singer-songwriter Ritchie Valens to examine and question mid-twentieth-century conceptions of race and art, identity and desire

Ragged and raging across the spectrums of cognition, race, and gender, Tarta Americana lyrically envisions forms of survival outside neuronormative perceptions and histories. Against the recent tide of white nationalism in the United States, Tarta Americana finds a rhinestone in Ritchie Valens, the rock and roll legend, surfacing across time and bodies, genders and sounds, displacing the linear unfolding of desire and biography. Valens, the embodiment of corporeal transcendence, guides Martinez as he expresses his own neurodiversity, his struggles and triumphs, interrogating memory, gender, and race, traversing pain in search of compassion and joy. Tarta Americana, tarred and glittering, melodic in its screams, overdrives text and space in chase of American politics that could, at last, harmonize love with redemption.
About the Author
---
J. Michael Martinez is the author of three collections of poetry, including Heredities, which received the Walt Whitman Award from the Academy of American Poets, and Museum of the Americas, which was a winner of the National Poetry Series Competition and long-listed for the 2018 National Book Award in Poetry. He is an assistant professor in the Department of English and Comparative Literature at San Jose State University.
Praise For…
---
Advance praise for Tarta Americana:

"J. Michael Martinez's expanding oeuvre so often investigates and overturns the high and low mythologies of the intersection between Latinidad and U.S. imperialisms: in Tarta Americana, Martinez brings this analysis home and into the intimate space of fandom, queer desire and inscription. This book is Gen X ecstatic in its ambitious formal range and showcases Martinez's love affair with the sublimity of language at all its registers. Tarta takes us into "You language," as a discourse meant to deliver us more deeply into a new form of lyric autohistoria-teoria in what is Martinez's best work yet." —Carmen Giménez
 
"For too long, literary critics have explained Hispanic American literature as concerned mainly with "hybridity." But the extreme warping of our political landscape demands the discovery and harnessing of new cultural properties. Enter the master of multi-perspectival narrative. J. Michael Martinez has constructed an epic…Tarta Americana is not only a riveting poetic-biopic of Richie Valens, but a way of understanding culture-making itself." —Rodrigo Toscano
 
"In Tarta Americana, the celluloid and actual Ritchie Valens serve Martinez as body double and secret sharer, the shape-shifting persona who walks us through the cloaca of the political present and media sphere, through our unlived life in the industries of desire. Ritchie Valens' 'We Belong Together' in the key of My Bloody Valentine's Loveless. Ritchie Valens as Rilkean angel and Orphic repository. Ritchie Valens as the recipient of a centerpiece epistolary sequence that further proliferates into many-sided embodiments ever larger than life—the 'story-shape' exuberant and relentless in Martinez' quest to integrate what was broken or torn apart. The sonic register spans from the caustic vision of Mexican folk balladry with its existential vacilada to the custodies of ixiptla as presence and making present, and the maximalist cascade of 'one more nonlinear,  / sweat stained star-  / lit night pulsing  / police lights  / across the rain streaked  / windshield where our most furious  / apprehensions  / blur all Rothko red . . . y arriba y arriba." —Roberto Tejada

"'Flying guitar, what we knew is you flew,' says the speaker in J. Michael Martinez's dazzling, book-length, riff—code-switched—of Don McLean's iconic song, lamenting the day the music died. Yes, Martinez deploys his signature array of formats and linguistic registers, only here his focus is one Richard Valenzuela AKA Ritchie Valens—a brilliant epistolary lens, through which the poet offers his most personal and vulnerable poemario to date…we are movingly persuaded when, in the end, the poet says: 'These pages /are my hands, / you're holding / my hands.'" —Francisco Aragón

 "Ravenous, cinematic, lost to angsty doldrums of rollerblading 'past Hollywood Video's rows/of Styrofoam VHS dreams'— this is Tarta Americana, a love letter.  Martinez craves a deeper connection, past the iconography of a talent who died tragically and too young: the further Martinez 'scrapes the narrative' from his own skin, the more something more intimate than the myth of a man emerges, something 'outside time, ear into the soft, it is this emptiness I want: our sacred outside existing only in each other.'" —Rosebud Ben-Oni

"Richie Valens, immortalized for La Bomba and Donna, dead at 17 in a plane accident, is here both patron saint and proxy-self, and Tarta Americana is both bildungsroman and protest song, a story of family and love, of the pain of growing up, and wide-eyed witness to the casual racism that culminates in cruel violence. In poems that pulse with a lyricism so bright is borders on the technicolor, this gifted poet gives to us what poetry and song have given him: 'twin consolations to the noise.'" —Dan Beachy-Quick
Welcome!
The Narrow Gauge Book Cooperative is a community-owned, independent bookstore located in Alamosa, Colorado, in the heart of the San Luis Valley. We sell new and used books and a small assortment of local foods and goods.
To learn more about who we are, read our story about how a community came together to save their beloved, historic bookstore.
If you've come to browse our inventory and shop online, you're at the right place!