You are here
Back to top
Color Empower Manifest: A Coloring Book to Empower Your Dreams (Paperback)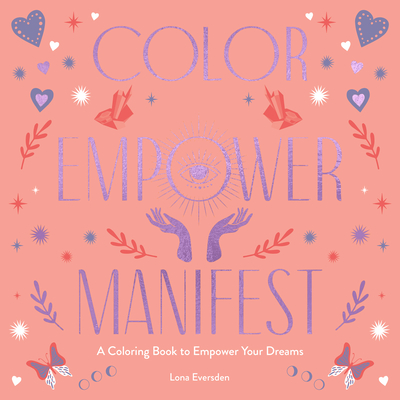 $16.99

Usually Ships in 1-5 Days
Description
---
Harness the positive power within you and manifest your dreams with this life-changing interactive coloring book featuring 30 inspiring affirmations and 40 line drawings with metallic ink accents.
We all have hopes and dreams. Realizing them involves willful positive thinking, simultaneously focusing our thoughts, actions, beliefs, and emotions—a process known as manifestation. Color Empower Manifest pairs inspiring abstract illustrations to color with thought-provoking affirmations—words of intention—to guide you on your unique journey of transformation. Each spread illustrates one intention in a beautiful geometric style, with the relevant text printed on the left-hand page. In addition, the artwork templates include "ghost" shapes to color which reduce harsh outlines. The book comes complete with an instructional section which includes basic techniques for art pens, pencils, and paints, as well as blank pages that can be used to create your own manifestations.
Coloring the illustrations while contemplating on the intentions allows you to open your mind and make small but important changes that can alter the course of your future. Each illustration includes intricate metallic ink detailing, and once colored, can be easily removed using scissors and then framed or displayed. With each spread you can create a truly unique work of art sure to be treasured and returned to time and again.
No matter your level of artistic skill, coloring is a fun way to get your creativity flowing. Color Empower Manifest can help you channel your thoughts, feelings, and beliefs to bring positive changes into your life—to find the joy, change, and success you seek.
Welcome!
The Narrow Gauge Book Cooperative is a community-owned, independent bookstore located in Alamosa, Colorado, in the heart of the San Luis Valley. We sell new and used books and a small assortment of local foods and goods.
To learn more about who we are, read our story about how a community came together to save their beloved, historic bookstore.
If you've come to browse our inventory and shop online, you're at the right place!