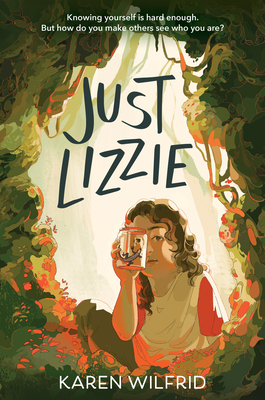 Just Lizzie
Publication Date:
November 14th, 2023
Usually Ships in 1 to 5 Days
Description
In this beautifully written contemporary middle grade debut, an eighth grader's study of asexuality in science class leads her to understand her own asexual identity as she embarks on a journey toward self-discovery and self-advocacy. For readers of Alex Gino and Ashley Herring Blake.
There's the part of me that doesn't understand kissing or cuteness or attraction, and then there's the part of me that feels so lonely. How do I make sense of those two parts? Maybe I'll never make sense of them.
What do you do when there's a question inside you that feels so big, you don't know how to put words to it? How do you even begin to ask it?
Fourteen-year-old Lizzie is experiencing a lot of change: her family had to move after the incident with their neighbor, leaving behind not only her beloved apple tree, but what feels like her childhood along with it. Lizzie's brother is too busy for her in his first semester of college and her friends are more interested in dating than dolls. It's hard not to feel left behind, especially as she tries to explain the fact that she still has zero interest in boys, girls, or the baffling behavior known as "flirting."
But just as Lizzie's world feels like it's closing in, a class lesson on asexual reproduction in plants piques her curiosity, leading her to look up whether people can be asexual too—and suddenly, her world opens up. Lizzie finally finds an identity, a word for all her messy, unnamable feelings that feels like it fits, although she quickly realizes that a label isn't enough if no one believes it's real.
Accessible, moving, and compassionate, Just Lizzie effortlessly braids a nuanced individual journey of identity with the bittersweet angst of growing up, growing apart, and learning there are many ways to live and love.
Praise for Just Lizzie
"This poignant depiction of a journey of self-discovery through the middle grade lens gives light to not only how emerging teenagers seek, process, and act with information, but how the voice of the younger generation is sometimes better to listen to instead of guiding. A thoughtful coming-of-age exploration of a tween's experience with big life changes and asexuality." — School Library Journal (starred review)
"A powerful, deep dive into a 13-year-old trying to figure out who she is when everything around her is working to convince her she's someone else. Just Lizzie is raw, honest, and absolutely needed."
— Ann Braden, award-winning author of The Benefits of Being an Octopus

"Through Lizzie's keen first-person voice and her interpersonal dilemmas, as well as her richly complex relationships with her teachers, friends, family, and classmates, debut author Wilfrid captures the indomitable spirit of one middle schooler struggling to better understand herself and the world around her." — Publishers Weekly